8 January 2018
Madonnina: new light to Milan's landmark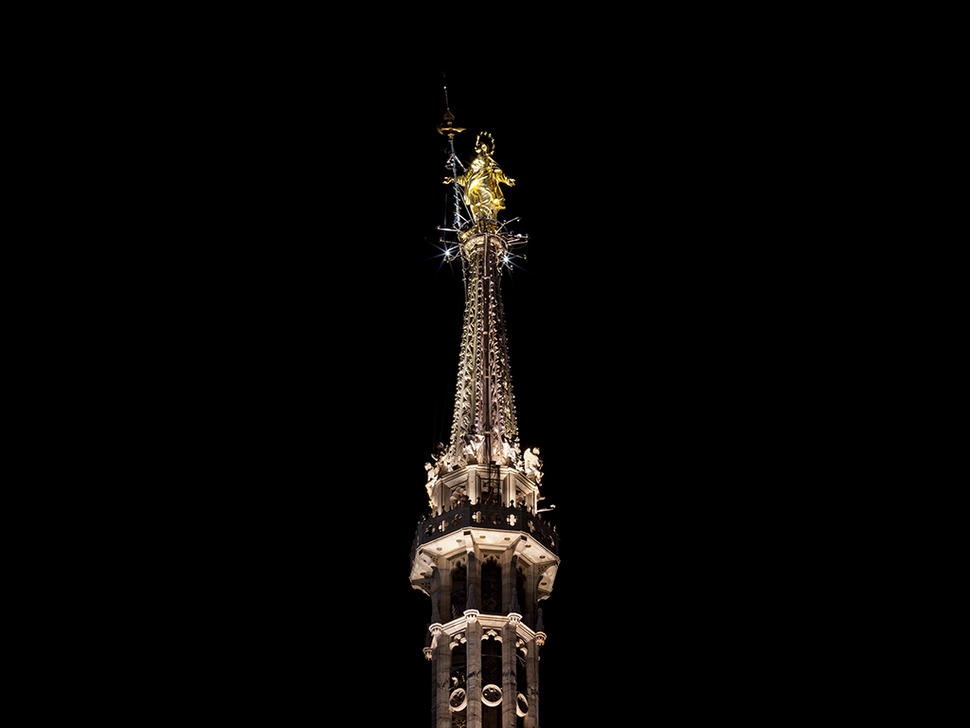 Milan's cathedral Madonnina stands out from the main spire, shining in new light thanks to Futuro Luce LED systems.
Veneranda Fabbrica is the protagonist of this important project that, thanks to the most advanced technologies, gives new light to the symbol of the cathedral, making it once again the landmark of Milan all over the world. The project started from its board of directors, and the collaboration with the Municipality of Milan and A2a has been very important. The lighting project was designed by ing. Pietro Palladino, from Ferrara-Palladino Studio.
The old lighting system of the Madonnina was made with PAR lamps, subject to frequent problems and substitutions, as well as to a high energy consumption, anchored to two metal circles placed at the base of the statue on two height levels. Due to the distribution of the luminous intensity of the lamps, and to the unfavorable installation positions, not all the statue was illuminated.
The new lighting, made with Futuro Luce LED systems, aims to solve this problem, giving greater prominence to the high back of the statue. Thus, 21 LED projectors were positioned at a higher height, allowing a more favorable projection angle. The use of LED projectors with different optics, from 10° to 100°, allowed to illuminate the statue in all its parts, reducing the areas of shade. Iilluminance values obtained are about 1000 lx.
Futuro Luce LED products used, model Dubai4, are distinguished by their small size and weight (7 cm in diameter, 0.5 kg in weight), as well as for their extremely low energy consumption (10W each). Adjustable from 0° to 105° with graduated bracket, allow an extremely precise tracking. They also guarantee total protection against dust and water, with an IP67 degree of protection.
From a structural point of view, the Futuro Luce LED products have been installed on telescopic and articulated carbon arms, anchored to existing metal rims with special joints. The arms thus structured offer the system a good resistance and at the same time allow the right flexibility to achieve the tracking in the most precise way possible. In order to archieve total illumination, particularly to the face, a supplement has been used for an additional outreach of a meter which, starting from the halberd, reaches a position of about 70 cm from the back of the Madonnina for the illumination of the body and face. The project is finally completed with the use of a braced back arm for the illumination of the back and the nape.
The Madonnina of Milan's cathedral is now illuminated from 360°, beautifully shining from whatever direction you look at it.